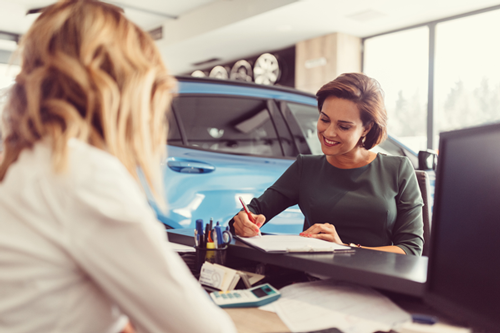 Leasing Options in Decatur, IL
If you're all set to purchase your brand-new dream car, then you're probably thinking along the lines of credit scores and financing rates. But before you go down that path, you'll want to explore all of your options for driving home that amazing new ride – options like leasing.
There are some serious advantages at stake for those who choose to lease. There's no right or wrong answer, though, and leasing isn't for everyone. Traditional financing is a tried-and-true method that also has its perks. It's important that you understand the benefits of leasing and financing before you make your decision.
If you've never leased a vehicle before, you might be wondering just what it entails, and how leasing instead of purchasing would affect you. We've got the answers below, and if you need more information or would like additional assistance in making the best choice for your needs and preferences, contact the friendly team at Bob Brady CDJR! We are happy to answer your questions, offer details that can help you make up your mind, and – always – make sure that you're 100% confident with your choices every step of the way.
Buying vs. Leasing
The main thing that separates a lease from a purchase is where your monthly payments go. With a lease, you're paying for the use of the vehicle over the duration of your lease term – not for the car itself. That means it won't belong to you, and you'll need to return it to the dealership in the same condition as you received it. For those who like to make aesthetic alterations and add accessories, or who just enjoy the pride of ownership, purchasing the car with an auto loan may be the better choice. Your monthly payments will go toward your loan, and once it's paid off, the vehicle will be all yours!
Here are a few other things to keep in mind when you're weighing your options.
Lease payments can be significantly lower than monthly loan payments. That means you'll be able to claim your dream car for less than you've budgeted for – bells and whistles included!
Choose your preferred length of commitment. When you buy a car, you'll generally keep driving it for longer than a few years. On the other hand, a lease term is usually up in a couple of years. This makes leasing an attractive option for those who like to surround themselves with the latest and greatest style and technology. If you tend to get emotionally invested in your car, however, you may find it more satisfying to purchase.
What to do when it's time to trade up? When you're ready to buy or lease a new vehicle, you'll need to find something to do with your current one. With a lease, it's a no-brainer. All you have to do is bring your leased vehicle back to us at Bob Brady CDJR and choose a new one to lease! You won't have to contend with things like trade value or natural depreciation. If you purchased the car initially, however, you'll need to decide whether to trade it in or sell it before moving on with your hunt for your next new ride.
Buy or Lease and Save at Bob Brady CDJR
Whether you buy or lease from Bob Brady CDJR, you're in for some serious savings and a simple and hassle-free dealership experience. Our friendly team is here to ensure you're completely satisfied with every aspect of your car shopping journey.
Kick off your search now by browsing our online inventory. We have all the newest models from our signature brands available for lease as well as purchase – and we can't wait to help you find your favorite for an irresistible bargain!